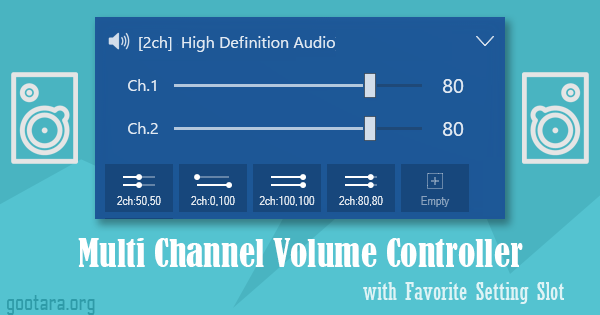 What is this app?
This aplication controlls multiple channels (like stereo's left and right) volumes on Windows.
It's running in the task tray like Windows standard "Volume" controller, click icon to change volume.
You can save multiple volume settings and swith them with one action.
Please use this application with Desktop mode.
In tablet mode, please check "Show all notification icons" in the task bar option.
Why did I make this?
I wanted an volume controller application to easily adjust the balance on the left and right, so I made it.
Also, sometimes I wanted to save some frequently used settings and switch them.
@see this article for more details. (in Japanese)
Is this freeware?
Yes, it is.
Free of charge only for personal use. (not free for commercial use.)
This means only gives you a right to use the software. 'gootara.org' reserves all other rights.
If you want to distribute this application or use as a part of commaercial product, please contact us.
@see 'readme.txt' for more details.
Operating System
Windows 7/8/8.1/10 (32/64 bit)
.NET Framework 4.5 or later required.
(Please use latest version with Windows Update)
Installation
Please downloadthe zip file from the download button on the upper right, expand it to the appropriate folder, and execute 'ChannelVolumeInstaller.exe'. (The self-extracting archive format was abolished because it may be misrecognized in Windows Defender etc.).
If the Windows 10 smart screen is enabled, it may take some time for the download to start.
Once the application is started, you can delete the extracted file.
Please make sure to download file from 'gootara.org' domain for security. (do not download from other web-site.)
If the SmartScreen warning is shown,
click 'More Info'.

Next, click 'Run anyway'
at your own risk.

Antivirus software warning
Apparently, it seems that this application will be warned by some anti-virus software.
Because this is an unsigned application at all, I could only say that it is false detection, but please do not execute downloaded file if you are worried.
I provided SHA1 and MD5 under the download link, so please use it for check.
You can check the hash value with the following command on Windows.
SHA1
certutil -hashfile

"full path to the downloaded file"

SHA1
MD5
certutil -hashfile

"full path to the downloaded file"

MD5
Note: SHA1 is the default, so it can be omitted.
How to use
Click icon

in Windows task tray.
Main window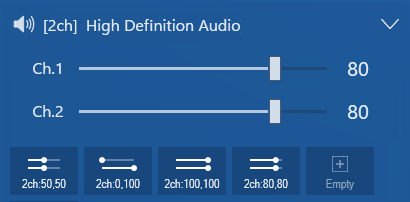 Click device name at the top of the window to choose the playback device.
Click speaker icon at the left side of device name to toggle mute on / off for the selected device.
You can adjust volume of each channel with the slider.
Generally, Ch.1 is "left" and Ch.2 is "right". P>
The bottom icon is memory slot of settings.
Click "Empty" slot to save the current volume settings. P>
You can overwrite and delete from the right-click context menu. P>
If there are not enough slots, please add from right-click context menu. (max 20)
You can change the order of memory slots by dragging. P>
How to adjust all channels volume simultaneously
Holding "Shift" key and dragging the slider.
Also select channels by clicking label and selected channels volume will be changed at the same time.
It's seems only 1ch even though there should be multiple channels
Although it supports not only the left and right channels but also more channels, Windows needs to recognize it.
Please check how Windows recognizes it by following steps.
Open "Playback Devices" by one of the following ways.
Ask Cortana "Sound"
Right-click the task tray icon of this application and choose "Playback devices" from the menu.
"Control Panel" > "All Control Panel Items" > "Sound"
Select the desired device and click the "Properties" button
Open the "Levels" tab and click the "Balance" button
There are the number recognized in the "Balance" dialog.
If the "Balance" button is not displayed, it is recognized as 1ch.
For example, some kind of virtual surround driver etc. seems to be recognized as 1ch on Windows.
In addition, in other virtual environments, even if Windows recognizes it as 8ch, there is no meaning other than 1ch and 2ch if the speaker actually connected with the host machine is stereo.
Actually, it depends on the configuration of the output devices, so check the connection settings with Windows.
Where is the shortcuts?
Please choose "Create desktop shortcut" from right-click menu of

task tray icon.
If you want this app to start automatically with Windows startup, select "Startup with Windows".
If you are finished without creating a shortcut for the first time and you do not know where the application is, please execute the downloaded file again.
Can set volume for each application individually?
Not supported, because it feel less-necessity.
App icon is not displayed in the task tray
Windows might be running in tablet mode.
In tablet mode, right-click on an empty part of the task bar to open the context menu and check the option "Show all notification icons".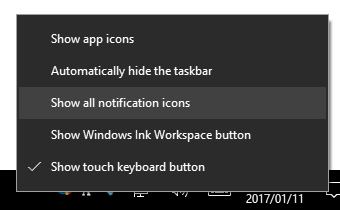 If the icon still not be displayed, please quit the application by TaskManager and restart it.
The window hides in the corner of the screen
With Windows 7, window may not be displayed properly when more than 100% scaling is set in the 'Control Panel' > 'Display'.
If you are using a high-resolution monitor and scaling entire system is required, please use Windows 10.
Command line options
For export: It is possible to specify the volume of each channel by command line options.
-vol:

n,n...
Specify the volumes between 0 and 100 for the default device.
If the device has 2 channels, specify 2 volumes separated by commas with no whitespace. P>
Example:
> ChannelVolume.exe -vol:50,50
If this option is specified, this application will not be in the task tray and will exit immediately.
About sound skipping of Bluetooth speaker
As a general matter, if you use Bluetooth speaker for a long time, sometimes the connection becomes unstable and sound will be skipped.
If you can not fix it even after switching devices, please restart Windows.
Self-extracting archive format has been abolished.
MD5: d1ccfd79d24116473439cf8268f6acc7
SHA1: 686dd25fcf712718262ba12ebdc4aa2e5592c109
Version 1.0.1.0
Improved operation in high resolution environment.